About Us
ABOUT US
There are many factors that go into choosing the best elliptical trainer for you and your workout needs, and navigating the options can be a difficult task. Our goal is to do all of the heavy lifting for you by reviewing today's most popular elliptical trainers. We've developed a comprehensive database of unbiased elliptical reviews so you can make an informed purchase decision.
OUR BEGINNINGS
Ellipticalreviews.com all began when we realized it was difficult to get an unbiased review of an elliptical trainer that was both complete and accurate. We wanted a simple place to find honest reviews that were actually helpful in trying to make a decision. Because we know purchasing workout equipment can be difficult and overwhelming, our goal is to simply make that process not only easier, but also fun, with complete reviews and helpful information.
THE BEST REVIEWS
We pride ourselves in knowing this is the place to find the best in honest and unbiased reviews, and who doesn't want honesty when there are so many brands and variations of elliptical trainers on the market? Ellipticalreviews.com does just that; we sincerely hope that our reviews will provide you with the information you need to choose the best elliptical trainer. If one brand is known for an operating system that's noisier than an airplane taking off, we'll tell you. If there's an elliptical trainer that's known for its less than acceptable customer service and warranty offer, we'll tell you that, too. We'll tell you everything you need to know about elliptical trainers, period.
OUR SITE AND YOU
In addition to complete and honest reviews, we also feature informative articles just for you, with up-to-date information on elliptical trainers and other health related topics. Our blog page features even more information with postings on helpful tips and tricks for getting the best workout experience out of your elliptical trainer, and ways to improve your overall fitness.
EDITORIAL STAFF:
Justin Mastine-Frost — Editor-In-Chief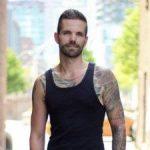 A diverse career spanning construction, automotives and journalism has given Justin a discerning eye for quality in product construction and engineering. Justin fuses his technical know-how with a personal passion for fitness to bring the Ellipticalreviews.com community a thoughtful curation of objective exercise equipment reviews. Whether it's deciphering which elliptical is worth your hard-earned buck, or debating whether the latest workout app can really help keep you motivated, you can rest assured that his insightful reviews will help you make the right purchase decision for the long haul.
Brian Boyce — Bodybuilder and Nutritionist
A lifelong athlete who began lifting weights for football in high school, Brian is a 7-time national qualifier in NPC men's bodybuilding competitions, as well as an occasional powerlifter and all around fitness enthusiast. After an award-winning writing career in newspapers and magazines, he purchased a small farm in rural Indiana and quickly converted one of the barns into a gym complete with commercial fitness equipment purchased online as well direct from area gym owners. His love of fitness and competition has led him to certifications in nutrition as well as exercise. Brian brings to readers a user's experience in a wide range of exercise equipment suited for commercial gyms or the garage. With more than 30 years personal experience in facilities of all levels with lifters aged teens to senior citizens, he'll help you find the best product for the price. When not lifting in his barn gym to hard rock and country music, Brian enjoys hiking with his dogs and experimenting with the raising of various fruits and vegetables in his garden. He also writes as a consultative editor for Academy of Nutrition and Dietetics.
Jessica Jones — NASM-Certified Personal Trainer and Nutritionist
Jessica is a NASM-certified personal trainer and nutrition coach who also holds an MBA with a focus in internet marketing. When she's not working with clients, she's often found at her local YMCA where she works with seniors in the Silver Sneakers group as well as the younger crowd doing high intensity interval training.
Her fitness journey began when she was able to quit smoking using the neurological responses associated with exercise as a form of nicotine replacement. Jessica, who is also a certified tobacco treatment specialist through the University of Kentucky, is in the process of developing her own fitness program to help others in smoking cessation.
From teens to older adults, Jessica is experienced in addressing the unique fitness factors associated with all age groups, and some of her proudest moments are shared with her clients when they meet their goals. You can often spot her around town training for competitions like marathons and triathlons.
Nicki Karimipour, PhD
Dr. Nicki Karimipour is a communications expert and experienced researcher. She obtained her master's degree and Ph.D. in Health Communications from the University of Florida. She obtained her bachelor's degrees from Florida State University.
Dr. Karimipour has previous experience in writing and editing for both print and online publications, and in teaching journalism, health writing, and public relations at the undergraduate and graduate level.
Her research-related experience ranges from collaborating with medical researchers and consulting on clinical trials, to clinical research program management. Her own research focuses on a variety of health topics, such as effects of social media use on female body image, football and concussions, and e-cigarette use among youth. Her research has been published in the Journal of Clinical and Translational Research, the Journal of Behavioral Health Services & Research, and the Journal of Sports Media.
She is based in Los Angeles, California and currently works at the University of Southern California in clinical trial operations. Follow her on Twitter: @NickiKPhD
Nakisa Yeganeh
Coming from a multi-dimensional fitness background, Nakisa's journey began as a competitive inline figure skater and snowboarder. At the age of 15, she secured 2nd place for Iran's NationalJunior skating team. After moving to Canada and studying Kinesiology at York University, as well as further certifications at Centennial College, her passion for fitness led her to pursue work as a Personal Trainer, manager, and fitness counselor at various fitness facilities, as well as working as a Recreation Therapist. It's these multiple touch points in various facets of the fitness industry that positions Nakisa perfectly for her arrival as Merchant Manager for Exercisebike.net. From meditation retreats to avidly reading any literature pertaining to nutrition, healthy mind & body, Nakisa is consistently seeking out further self-development. What started off as a passion has now turned into an obsession to support and help those who are in need whether it's patients, or people who are pursuing their own fitness journey at any level..